14th Annual Golf for Autism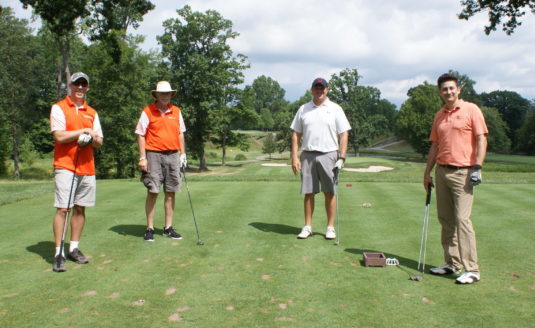 Four months ago, I didn't think our annual Orange Effect Foundation Golf for Autism was going to happen. At that time, at least in Ohio, golf courses were closed and we were all on lockdown.
As we made it through May, we believed we could hold a modified event. One that would be safe for everyone.
What did that mean?
Instead of our normal morning and afternoon shotgun starts, we needed to do tee times only, fifteen minutes apart.
Instead of a banquet and raffle, we needed to do hot dogs and burgers on the go.
Instead of the annual speech given by my oldest son, he stayed at home (although his brother came out to volunteer).
But the amazing part was, no one seemed to mind.
When it was raining and we were delayed by an hour in the afternoon, I said to one of the golfers, "hopefully we'll get out soon."
He replied, "heck, this is for a great cause. Plus, I'm not at home."
All the OEF golfers and supporters are truly amazing.
Over the years, proceeds from the OEF Golf for Autism have been able to directly assist over 200 children in 30 states. This would never be possible without our wonderful OEF team, our volunteers and people like you who donate their time and talent to this amazing cause – delivering grants for speech therapy to children who desperately need it.
Special thanks to our Premier Sponsors this year, which includes Petco, GIE Media, AON, Zurich Insurance Group, DivvyHQ and Openview. It's worth noting that Petco and GIE Media have been with us since Year 1. The 15th Annual Golf for Autism will be Monday, August 2nd 2021. We'd love to have you participate next year. Please save the date.