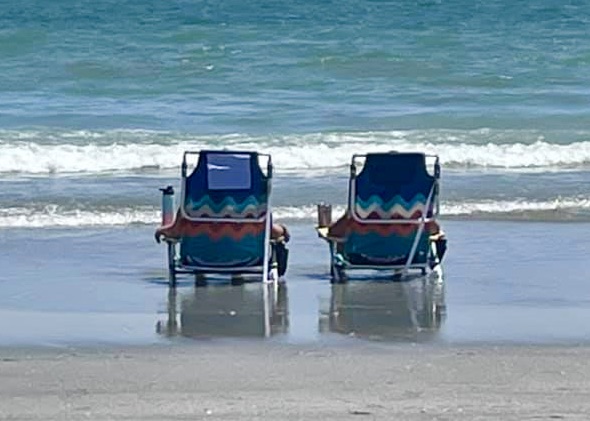 Vacation, in my opinion, is the best word in the dictionary. Before I was married and had a family, I would dream about traveling the world on elaborate vacations. I still have that dream every once in a while but have to admit my favorite vacation time now is a week at the beach. The planning and packing, which I still have yet to master, take some time, but there's nothing better than unplugging for a week of family fun in the sun!
Starting each day with a morning walk or run on the beach, drinking a cup of coffee watching the sun rise, sitting in a beach chair at the edge of the ocean, with the waves crashing over your feet, cocktail in hand. Somehow vacation hangovers don't exist at the beach! Watching our daughter running into the water, building sand castles, and endless hours of jumping into the pool and splashing her grandparents and aunt and uncle. It's a vacation time that I wish my entire family and friends could all join.
The past few years my family has experienced some fantastic beach vacations at the Isle of Palms, the Outer Banks, and most recently, Surfside Beach in South Carolina. I was a little apprehensive about this vacation as this was the first time I was responsible for planning the trip and choosing the destination for others. I worried that the house wouldn't be as nice as the pictures, that maybe we wouldn't like the area. Well, it turns out it was perfect. The house we rented was named Ohana, a Hawaiian word for family and it was beautiful. The beach was 500 feet across the street and we had a private pool. As we explored the area further, we found that Surfside Beach is also known as "the family beach" and was designated the first autism-friendly travel destination in the world in January 2016.
As many of you are aware, an estimated 40 percent of people with autism are nonverbal. Through the amazing work of The Orange Effect Foundation, children and young adults with speech disorders are empowered to communicate effectively. Grants that provide speech therapy and speech devices are often awarded to those with autism. I believe this vacation at Surfside Beach, the first autism-friendly travel destination ever, was truly meant to be, and there's a reason I was led to this destination.