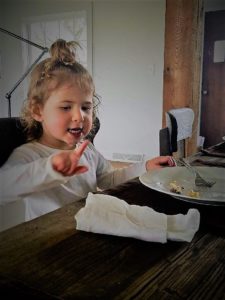 I'm no expert in speech therapy, but because of the work we do here at the Orange Effect Foundation, I often get asked a lot of questions that I honestly don't know the answer to! So I took some of the top questions and posed them to the real experts… speech therapists! Their insight is so valuable and I can't thank them enough for their time to help out!
Today's question is how can you do speech therapy with a toddler who is delayed???
I get this question all the time!  And LOVE to answer it. First, it is important to know that speech-language pathologists (SLPs) do not only address "speech" or pronunciation. We talk about "speech" as being how we say sounds and words (articulation, voice, fluency) and "language" as the words we use to share thoughts and ideas and get what we need (auditory comprehension and expressive communication). We are truly communication specialists. A toddler may show red flags for a developmental delay in the area of communication, and SLPs are trained to facilitate and enhance their learning of communication skills. Children naturally learn through play. Using a toddler's natural environment, we can set up structured situations that lead to productions of the goals we are trying to address, whether it is speech or language. At the same time, having the parent involved in the therapy is critical. By educating the parent and providing them with information and resources to improve their child's communication skills, we are empowering that parent to continue "speech therapy" throughout the day and week until their next appointment. By doing the natural things we do with toddlers; talking to them, playing simple games, reading books, we are encouraging and enhancing their speech and language abilities.
-Sarah Baker, MS CCC-SLP, owner and clinical director of Baker Speech Clinic in Oklahoma City, Oklahoma. 
Use of child directed play based therapy is the key with a toddler, paired intensively with parent teaching within the session. The parent being in the session and learning from the therapy process is critical as it lays the foundation for the future of the child's growth and development. My core technique of choice is Floortime/DIR (Stanley Greenspan, MD, Developmental Individual differences Relationship based model of therapy).
-Mary Padula, MA, CCC/SLP, TLP-C/BC-C, Neurodevelopment Program Consultant for Person Centered Therapies, Inc. in Stow, Ohio and author of Navigating the Therapy World.
For a toddler that has a language delay, I use play based therapy and Hanen Language Principles to teach parents how to model language and work with their child. The Cleveland Hearing & Speech Center (CHSC) runs two parent toddler groups to help toddlers who are delayed with their language (not talking yet or don't have enough words for their age). For example, in the parent toddler groups we "allow the children to lead," letting them pick toys they want to play with. By doing this, children are more motivated to talk and do what we ask them to do. While they play, we provide simple language models and use target vocabulary to help the children. It is also important to get down on the child's level and stay face to face with him/her, so he/she can watch your mouth.
 –Lauren Masuga, M.A. CCC-SLP Senior Speech-Language Pathologist for The Cleveland Hearing & Speech Center in Cleveland, Ohio.
---
SO, the answer is YES!!! The experts have spoken and even shared a few skills and strategies.  As we know from research such as conducted by Autism Speaks, early intervention is effective. If you or someone you know isn't sure if their child needs speech therapy maybe this post will help!
More to come from our speech experts in upcoming posts!