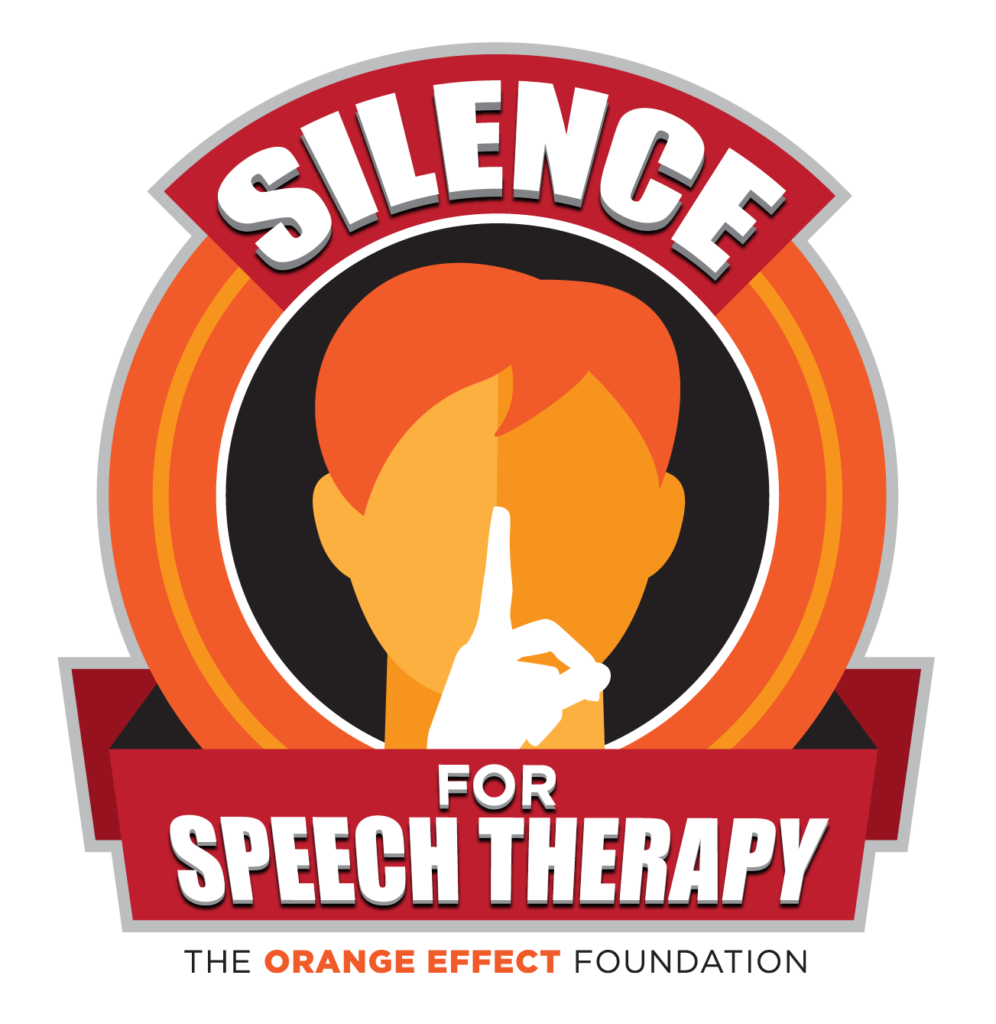 Quick background. Over the weekend of November 13-15, 77 people took on the challenge of staying silent for 24 straight hours. They did this in support of the Orange Effect Foundation. This organization gives grants to kids who need speech therapy or a tablet device in order to communicate. In all cases, the grant recipients' families are unable to afford the needed resources and insurance is not able to cover costs. The kids who receive grants have a range of reasons for their delay in speech.
We asked participants for Silence for Speech Therapy for feedback on their experience. Here is what they said.
Adam – Age 17 – Going into it, I thought it may be difficult, but I did not know the true extent of the difficulty. It feels extremely frustrating, and at times lonely, to be unable to communicate yourself. As someone who loves to share interesting thoughts or ask questions, I flat out felt like I couldn't at all be myself. You can't crack a joke, or ask how are you, simple things that you don't even realize you would miss. If it wasn't for a fundraiser, it would have felt like a lost day, and I can't even begin to imagine people who have to go through something similar every day, which is why support is just so important.
Jacqueline – Adult – Being silent is the hardest thing for me but it brings so much appreciation to everyday things we have and take for granted. I was very fortunate to have texting and my cell phone. The hardest was going into a store–I gestured a lot and then showed the cashier my phone (had a note on it) but they were very cool about it. I started to get depressed because I wanted to talk on the phone and couldn't, but again reminded myself why I was doing this. It really makes you appreciate what you have.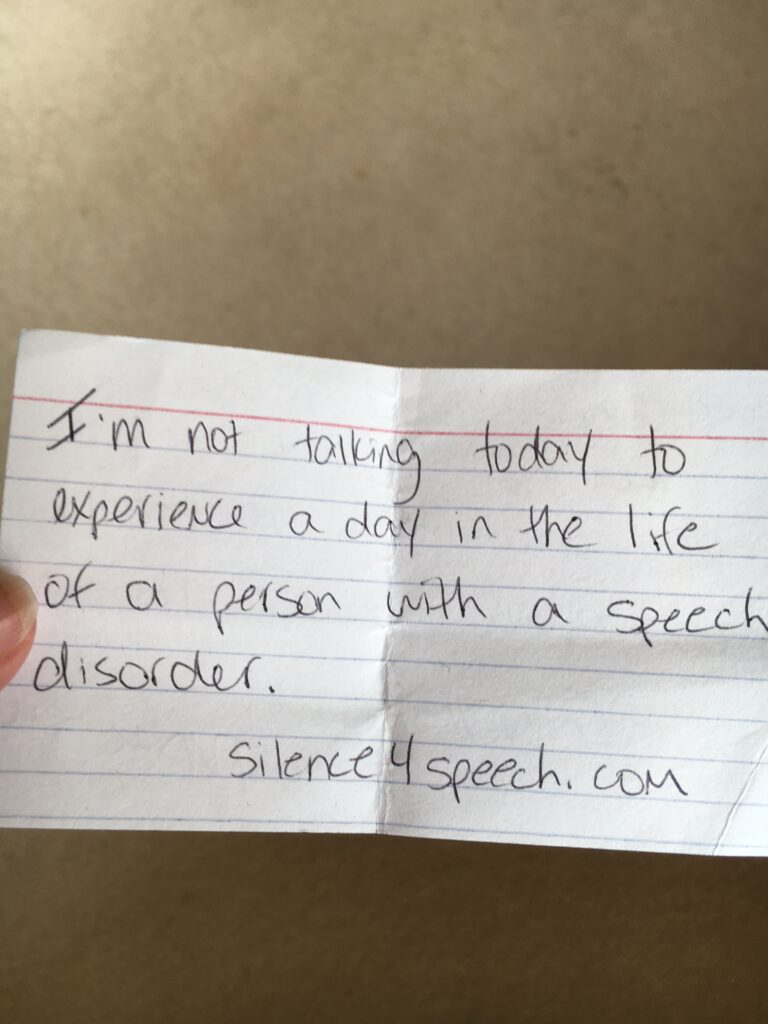 Owen – Age 15 – I thought not talking for 24 hours was really challenging. I didn't know how hard it would be. I also didn't realize how much I talk during the day without even knowing. It was hard to communicate. I couldn't imagine having to do this every day.
Kristin – Adult – There is quite a range of emotions over the 24 hours of not verbally communicating. I had several moments of clarity being silent and it was at times very calming. I would get frustrated when I felt the pressure to talk when my husband was asking me questions but then we would high five when he was able to understand my hand signs or motions versus writing down or textings. Also, I talked to myself more than I realized! My friends and family were surprised I really did it!
Sam – Age 14 – Silence for Speech made me have more appreciation for people who have trouble speaking. Without being able to talk, it makes small questions, or responding to a question very difficult. You don't realize how lucky you are being able to easily communicate.
Melissa – Adult – This was hard, but makes you realize how important verbal communication is. Helpful hints: Have plenty of scrap paper around and establish your gestures/signs with your family/friends prior to starting!!!
Dan – Adult – The ability to communicate with speech is fundamental; without it one is at a major disadvantage. Speech therapy works.
Madeline – Age 10 – My Silence for Speech Therapy day was probably one of the hardest things I have ever done. It was so incredibly hard because I am a very social person. I couldn't last all day because talking is something I could not live without. I can't believe how hard it must be to not be able to express yourself. I finally understand what it's like to have autism.
Mike – Adult – "Can't speak" leads to "can't communicate," which leads to frustration, which leads to a lack of confidence and will. Having done this exercise it is so much easier to understand how children with speech issues lose the confidence to improve, and conversely, to see and feel the importance proper speech therapy would have on their lives.
Muireann – Age 11 – The experience of not talking for 24 hours has shown me how much we take speaking for granted, it plays a crucial part in our daily life and we use it almost every hour. I have never realized that people who can't speak have such a hard time communicating with others, it was very hard for me to express my ideas and opinions. My experience with not speaking was very hard, for someone who speaks a lot, and I had to take breaks for lessons and phone calls, but I managed in the end. In conclusion, we should help people who do not have the privilege of something we use, and take for granted, every day.
Joe – Adult – I obviously take speech communication for granted, because not speaking for 24 hours was one of the hardest things I've ever done. I don't know how I could survive without talking. It truly amazes me how well some people communicate without using their voice.
Annika – Adult – Silence For Speech is a great way to learn more about how dependent we are on speech and how hard it is to not be able to talk.
Kelly – Adult – Being silent for 24 hours made me understand why people with difficulty verbally communicating might avoid others–it's way easier to just avoid people when you can't talk to them! But staying away from people gets lonely after a few hours, and super frustrating when there is something you need to tell them.
Sign up for our monthly newsletter to learn more about what we do and our Silence for Speech campaign in 2021.