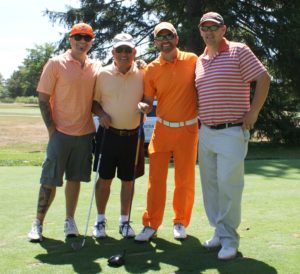 OEF Golf for Autism Announced for August 7th (Save the Date)
The Orange Effect Foundation has one goal – to make sure those children who need speech therapy services get the funds or technology they need…to reach their full potential. For many families around the world, insurance or government grants don't fund these activities.  That's why we have to step in and help.
Our 11TH annual Golf for Autism event, presented by Petco, is our biggest fundraiser, and the proceeds enable us to fund those children in need.  
We've been able to generate almost $200,000 for kids in need in our first 10 years. I'm in awe of how generous this community is.
The past year has been incredibly exciting, as we've been able to deliver over $50,000 in proceeds to children all over the country, helping them receive the technology and speech therapy (that they wouldn't get if OEF wasn't around).
But we need more help. Here's how you can help and get involved with our cause.
PLAY GOLF
This year's OEF Golf for Autism is Monday August 7, 2017 at Elyria (OHIO) Country Club.
To accommodate more golfers this year, WE HAVE TWO FLIGHTS (8:15AM and 2:15PM). Lunch and ceremony will bring everyone together at the same time, 1 PM. Please sign up and reserve your spot now (register here). Flights are first come first serve.
SPONSOR US
This is the best way to help the children directly.  If you work for a company, please see if you can sponsor OEF and the golf outing. Even $100 donation can help us fund two hours of speech therapy for a child. It really does make a difference. Click here to donate.
I'm asking that you do one thing – give a cash donation, sponsor the event, golf, donate an item or just wish us well. If you can't, please pass this post on to someone who can!
NOTE: All donations are tax deductible as a charitable contribution.
Thank you for ALL your support.  It is truly appreciated.
Joe Pulizzi
OEF Golf for Autism Chairperson