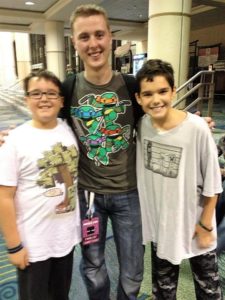 Today a photo popped up in my Facebook memories that actually caused me to have a true emotional gasp! Look at the big genuine smile on those boys! That's Adam on the left, and Joshua on the right. The photo was taken 5 years ago at Minecon – yes, that is right – the convention for Minecraft!
Minecraft had a lasting impact on our family – so much so that one of my husband's most popular Linkedin posts was on the subject! Tickets for the event sold out in 45 seconds online.  It was a small miracle we were able to go! Even as we boarded the plane for Orlando I didn't realize the impact that this family adventure would have on us.
Just driving to the convention center there were signs for the event everywhere. The excitement from the boys was noticeable to everyone. As we walked into the venue to get our registration credentials Joshua immediately saw one of his favorite YouTubers (yes I guess that is what they are called). He told us who it was and I nonchalantly said "go say hi". Now keep in mind I said this to my socially challenged 12-year-old. Also keep in mind I am tearing up as I type this. Sure enough, Joshua walked right up to BebopVox and said "Hi, I'm Josh. You had my Dad in one of your videos because of his Linkedin post."
Until seeing this picture on my memories I had forgotten that moment in my life where I said to myself that my son just might be able to survive in this big bad world. That moment where I was so proud I could almost burst. It was such a small thing to some I realize. But for us, Minecraft just may have built some of the socialization skills my son needed to learn.  
What is your moment?