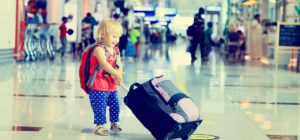 For Gearoid Mannion and his wife, Michelle, who live in County Clare, Ireland, air travel with their two autistic sons, Conor, 9, and Darragh, 7, is usually nothing short of a nightmare. The noise level, crowds and announcements at airports overwhelm the boys, and waiting in security and boarding lines is a concept that they don't understand, Mr. Mannion said. "They get red in the face and start running around and crying and screaming or run toward the exit, because they want to go back home," he said.
The family's recent experience at Shannon Airport in Ireland, when they were en route to a vacation in Málaga, Spain, however, gave them hope that flying didn't have to be so stressful. Mr. Mannion had heard about the airport's recent initiative to ease the journey for individuals with autism spectrum disorder — the name for a group of developmental disorders that include autism — and called its customer service desk before their trip to relay that he would be traveling with autistic children.
Upon check-in, the foursome were given wristbands and orange baseball caps that identified them as a family with passengers with autism spectrum disorder and allowed them to jump to the front of the security line. Then they headed to the airport's new Sensory Room, meant to soothe those with sensory issues, similar to those of Conor and Darragh; the room was shielded from outside noise and had a wavy wall, color-changing LED lights, bean bags and other items that kept them calm and happily occupied. And to avoid the challenge of waiting in a boarding line, the Mannions were able to board last. "Unlike the past, our trip was actually manageable," Mr. Mannion said.
Shannon Airport isn't alone in its efforts to ease air travel for those with autism spectrum disorder: Some airlines and other airports around the world are also part of the movement, and in the United States, the Arc, a group in Washington representing people with intellectual and developmental disabilities, including autism, is a major player.
Part of the reason for this recent support may be the rise in autism spectrum disorder. In the United States alone, one in 68 children has autism spectrum disorder, according to the Centers for Disease Control and Prevention, and the prevalence of autism in children increased 6 percent to 15 percent each year between 2002 and 2010.
Shannon Airport opened the sensory room and started the autism identification system, because autistic fliers were coming through the airport daily and having a hard time while they were there, said Nandi O'Sullivan, a spokeswoman for the airport. "We saw that people with autism would get agitated and wanted to make them and their families more comfortable," she said.
Delta Air Lines, in partnership with Hartsfield-Jackson Atlanta International Airport and the Arc, opened a similar sensory room in the airport last year and filled it with toys and items commonly used to soothe those with autism spectrum disorder, such as a mini ball pit and a water sculpture.
Airports are difficult settings for people with autism spectrum disorder, because they can be hypersensitive to noise and crowds, said Dr. Wendy Moyal, a psychiatrist at the Child Mind Institute in New York City who is an autism spectrum disorder specialist. "For a person who is easily overstimulated, like an autistic individual can be, the commotion of an airport can elicit tremendous anxiety," she said. "Also, since such individuals have limitations understanding social contexts and low frustration tolerance, security might feel unfair and lines challenging to wait in."
Vancouver International Airport is part of a group of airports offering mock flight experiences for people with autism spectrum disorder and their families to help acclimate them to flying. On Vancouver's annual tours, participants get to check in, go through security and board an aircraft. Bristol Airport, in the United Kingdom, also offers practice runs but upon request – participants don't actually board a plane but go through all the other steps of the flying process.
At the Atlanta airport, Delta has monthly mock flights, called Taking Flight, for people with autism spectrum disorder and their families. They're led by two Delta employees, Sandy Smith, a customer service agent, and Eric Ries, a lead pilot, who have children with autism spectrum disorder. (Both volunteer their time.)
As a part of Taking Flight, Mr. Ries, whose son, Drew, 10, has autism spectrum disorder, shares his advice on how parents should manage flying with their children. His top tip: Let your children fill a backpack with their favorite items, such as headphones or a book, so that a sense of comfort is always close. "I didn't want to deny Drew the opportunity to travel just because he was overwhelmed at airports," he said. "So I learned all the ways possible to make flying smoother for him. To date,Mr. Ries and Drew have flown together more than 45 times
Elsewhere in the United States, the Arc runs practice flights through an event called Wings for Autism, in which one of its local chapters teams with an airport, an airline and the Transportation Security Administration. In some instances, the planes even taxi with participants on board. La Guardia Airport, in New York City, and Washington Dulles International Airport are two of the 30 airports around the country collaborating with the Arc on the event this year.These trial runs, Dr. Moyal said, are incredibly effective in helping people with autism spectrum disorder become more comfortable with flying. "Being prepared and familiar with the setting is key for individuals with autism to have an easier travel experience," she said.
Families said the practice flights give them confidence. Nicole and Jason Beitzel, of Watkinsville, Ga., have only taken road trips with their daughter, Abby, 4, who is autistic and nonverbal, because they were afraid she couldn't handle flying.
Their perspective changed after attending a Wings for Autism event at Hartsfield-Jackson airport in April. "Getting a dress rehearsal of the flying process with Abby has made us open to the idea of air travel with her," Ms. Beitzel said. "Our dream destination is Hawaii, and, instead of thinking that we would never get to go, we have hope that we can take the trip later this year."
Source: The New York Times