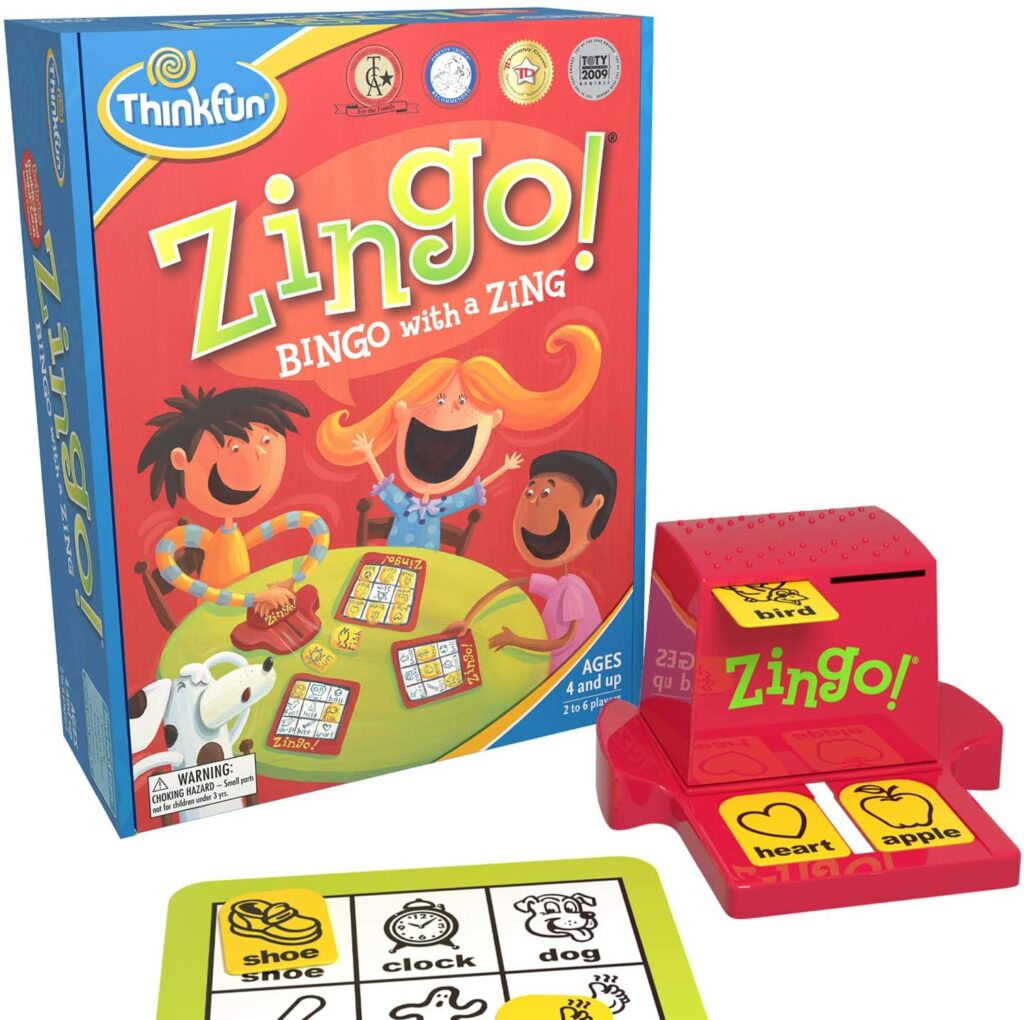 Following our post about gifts for toddlers, we didn't want to leave out their slightly older energetic counterparts, the preschoolers. You'll see that in both posts many of the ideas can overlap ages. You'll know what's a good fit for the young one in your life. If you have any great suggestions to add please do comment! We love resources!
At Home Scavenger Hunt. Any kind of scavenger hunt is fun for your preschooler. This particular one is stated for toddlers, but still great for preschoolers especially those at home a lot and needing things to do! Helps kids work on colors and sizes. Like all interactions, it is great to have the child name the objects as they find them. 
Memory Skills Game. There are many many choices out there.  I like this one because it has a nice table top board. As with all kids working on any speech issues, have the child say each object as they play.
Zingo. As my boys are now teenagers I have donated many of our toys and games to be enjoyed by other youngsters, but this one I have held on to. Sometimes I have my teenagers play just for fun!  It's bingo with a twist. 
Sequence For Kids. No reading required, which is great. I didn't discover this game until my kids were a bit older but I love how it challenges critical thinking and forces you to plan your moves ahead. 
Scissor Skills. As opposed to a scavenger hunt, this is a sit still activity which might be hard for some preschoolers.  Also arguably this has more of an occupational therapy focus than speech focus, but also good for some independent work.
Letters and Spelling Game. One of my favorite memories is the book Chicka Chicka Boom Boom. It was Joshua's favorite around the toddler years. From that book came a great interest in letters and spelling.  Games like this one are going for practicing both letter and word sounds.
Sidenote if you are using Amazon. None of the links above are affiliate, but did you know that Amazon Smile will donate a portion of your Amazon purchases to charity? Here's how to get started:
Go to https://smile.amazon.com
Right under the search bar is a space for you to select your charity of choice. Do you already use Smile for your favorite charity? Good for you!
If you don't…type in Orange Effect Foundation.
Start shopping!