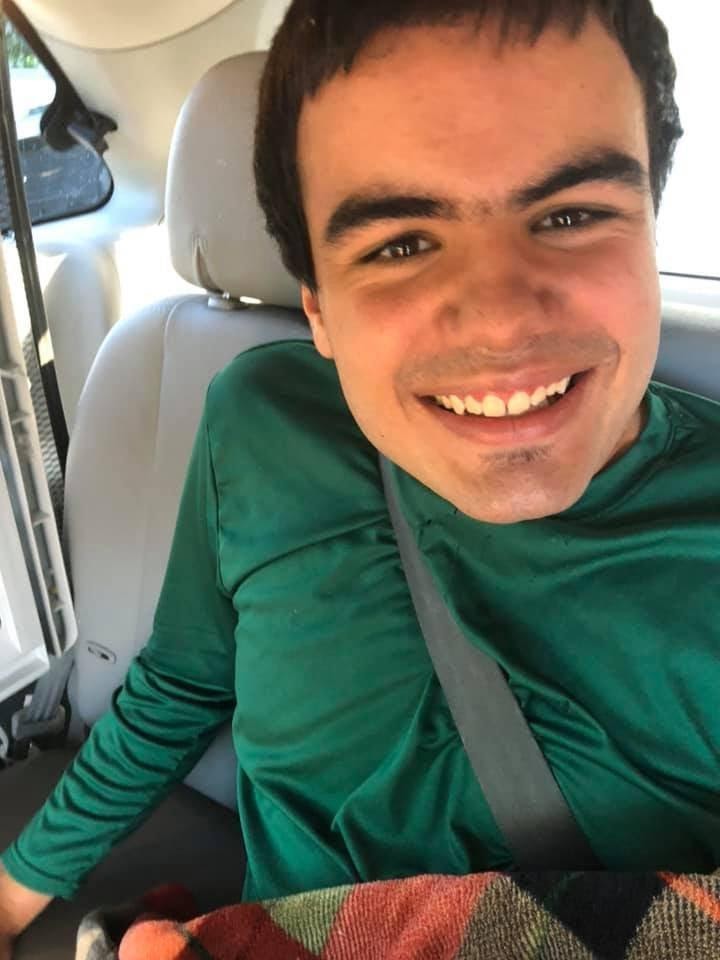 A few weeks ago, Ryan, with his fuzzy PJ pants on, galloped into the kitchen with a determined look in his eyes. He approached the drawer that holds his GoTalk device so he could request his favorite, most beloved item…food.
"I want a snack. I want a snack. I want a snack." His eyes catch mine, and he shakes his head up and down aggressively.
"Yeah, yeah, Ry, I'll get you a…" I try to finish my sentence, but he inches for the device.
"I want… a balloon."
We lock eyes for a moment, but the silence is broken by his contagious string of giggles as he gallops down the hall, looking back at me with a grin. I chase him down to his bedroom where he lays on his bed and I embrace him with a big body squeeze. Tickling his feet and his arms, he giggles uncontrollably…effortlessly…blissfully. When I think of my brother Ryan, I think of this moment, and many others just like it. I think of his goofy, contagious belly laugh and his infectious smile. And amongst all these shared laughs and smiles, I am constantly reminded of how blessed I am to be his sister.
However, there were times, specifically when Ryan was a teenager, when I pitied myself, rather than feeling blessed. As Ryan entered his teenage years, his behaviors became recurrently and progressively more violent. He smashed his head through windows, pinched and bit into my arms without any warning, and always pulled my hair. I recently asked my mom to think back to all the difficulties she and our family went through during Ryan's teenage years and what helped most, and this is what she said.
"When Ryan turned ten years old, our sweet passive little boy transformed into a child that was not content with anything! As a result, his behaviors became aggressive and self-injurious, whether there were demands put on him or not. This left us all scratching our heads and tending to our multiple wounds. Thankfully, our society was coming up with solutions… ways to help my silent child communicate his needs to anyone who worked or lived with him. Whether an IPAD app or GoTalk device, any augmentative device that Ryan preferred and chose not to destroy, we found a way to provide for Ryan. Ryan is now 21 years old, and we are so thankful for his device because it has given him a voice."
Now that Ryan is older, his behaviors are less frequent, and he is constantly smiling! I still get upset at times with him, but I smile and laugh with him so much more. We are only two years apart in age, so through all the ups and downs, Ryan has always been my best friend, confidant, and inspiration. Being not only a sister to Ryan, but a provider for him for the past six months, has been a blessing, a sacrifice, and a joy. Some days he will strike a hole through a wall with his head at 9 p.m., but then want to snuggle or dance with me at 10 p.m. Then, I'll wake up to spit in my face at 3 a.m., but then a kiss on the cheek goodbye before I leave for school at 7 a.m.
Through the vicissitudes of living with and providing for Ryan these past six months, I have felt pieces of the struggle that my mother felt for years caring for her nonverbal, aggressive, yet unconditionally loved son. But I have also felt his love in the hugs, laughs, kisses, giggles, snuggles, and smiles. Although these things alternate, I am certain that the smiles and giggles would be practically non-existent without his device.