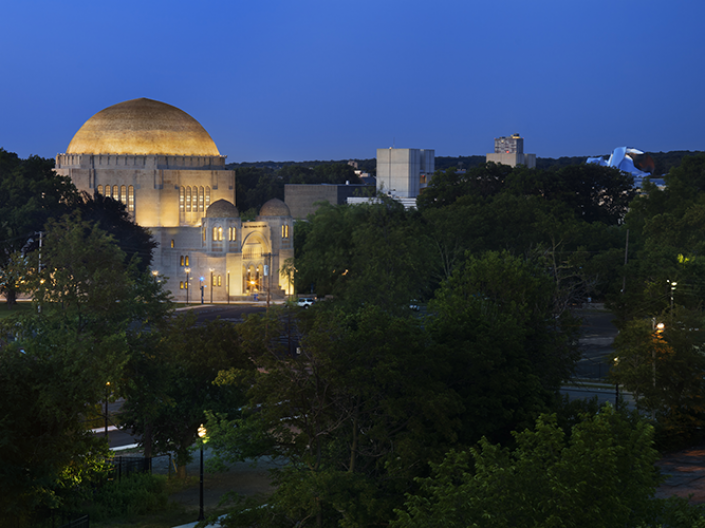 In 2022, I was looking for a way to become more involved in Cleveland's arts and cultural scene, probably as a volunteer. I was also considering how to keep a New Year's resolution that I had been recycling for a few years, that being to experience more live performances of classical music and to learn more about different styles of music.
My good friend had been volunteering at the Maltz Performing Arts Center (MPAC) at Case Western Reserve University (CWRU) and suggested that I check it out. I was warmly welcomed into the volunteer pool and have been enjoying ushering at performances ever since.
An Architectural Gem
The MPAC building is a Cleveland architectural gem. As their website details, the Byzantine-style building was completed in 1924 as a Jewish synagogue and is now on the National Register of Historic Places. Currently, CWRU and The Temple – Tifereth Israel (meaning "Glory of God") manage the 1,200-seat venue in partnership, welcoming about 15,000 guests per year. The new building for the CWRU theater department is connected to the main hall, so that multiple performance spaces coexist on site.

The MPAC offers a variety of programming that makes it easy for me to keep my New Year's resolution and have a great time doing so. Various types of music and entertainment are programmed each year, from classical to jazz to choral performances, and so much more, all family friendly. Ethnic and cultural diversity are highlighted. The MPAC hosts the Cuyahoga County Public Library's Skirball Writers Center Stage Series, as well as the Anisfield-Wolf Book Awards Ceremony. Many of the ticketed and free events are livestreamed so that anyone can enjoy the performances. The MPAC is located about a mile from Cleveland's Little Italy, so you can enjoy great Italian food before or after the performance.
If you come to an event and see me there in my regulation black and white usher's outfit, come say hello and let me know that you read about this Cleveland destination on the OEF blog site!