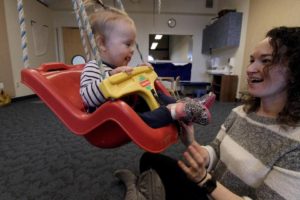 When her parents took her to speech therapy and began treatment for speech apraxia, they were told their daughter would always be an introvert and never able to do much. Clark didn't begin talking until the age of 2, according to her sister, Jackie Poss.
"My family was great," said Clark, a Puyallup resident. "They didn't take 'no' for an answer. They interviewed speech therapists and found one that I still keep in touch with to this day. You can't judge what a child will accomplish at that age."
Now a speech pathologist at Good Samaritan's Child Therapy Unit, Clark knows firsthand what it is like to be a child with a speech disability.