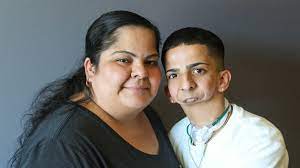 National Public Radio (NPR) calls them 'driveway moments' and I can personally attest that they're real. Driveway moments stay with you and are often so good you want to talk about them and share them with others. If you're not familiar with the term, driveway moments are stories so compelling that you can't possibly turn off your car radio and get out of your car even though you've arrived home. So you sit in your driveway for an extra minute or two, listening to the rest of an amazing and inspirational tale, or a heartbreaking story, or in this case, something that's a bit of both.
This particular NPR story aired on May 21, the same day that my oldest child graduated from high school. Granted, I was already in a sentimental state, but listening to an 18-year-old thank his mom for "not giving up on him" brought me to tears. Here's the catch though–he shared this message using his speech device. Isaiah, the son speaking to his mom, is unable to communicate using his own voice because he was born without a lower jaw. Isaiah cannot use his voice but he can speak by typing words on a communication device and having a digital voice speak for him.
The Orange Effect Foundation has empowered 67 kids just like Isaiah with the ability to speak their mind…and thank their mom. These kids have a voice because of our generous supporters. Donations go directly to fund devices for kids like Isaiah.
If you have two minutes, or truly even if you don't, please listen to this driveway moment NPR story. It's definitely worth sharing.