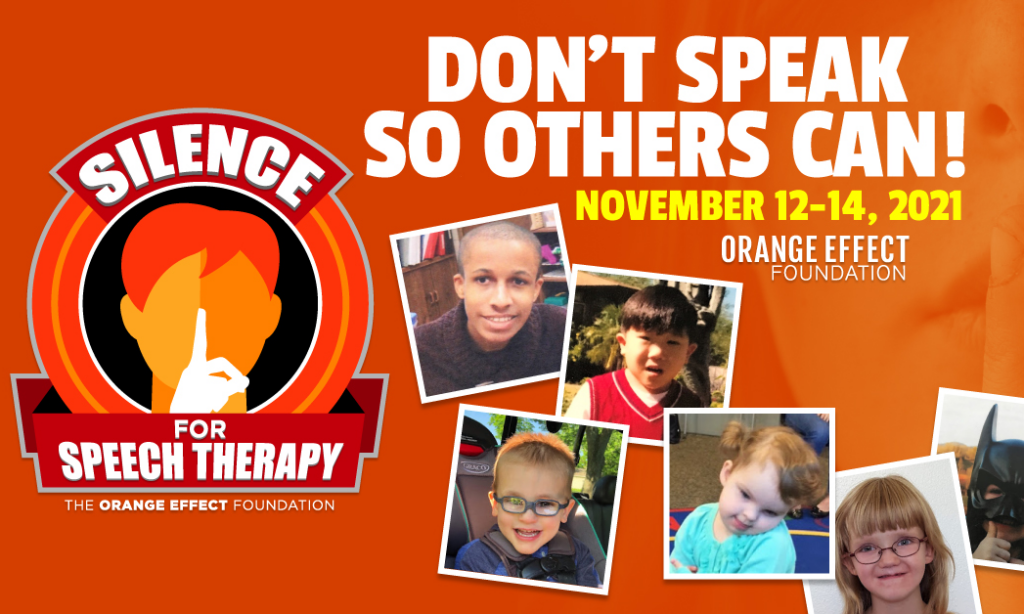 It is officially fall and it's officially time to mark your calendars for this year's Silence for Speech event! After a successful 2020 fundraiser, we are excited and hopeful for another successful event.
Founder and Executive Director, Pam Pulizzi, recalls, "We learned last year that most of the participants in Silence for Speech know someone with autism, apraxia, or other speech disorders. Most people know a person who has needed speech therapy at some point in their lives. According to national statistics, one in twelve people have participated in speech therapy themselves. We were so fortunate for the willingness of those taking on the challenge of silence to support those around them living with communication differences, but also to make it accessible for all those who cannot otherwise afford services."
In this event, participants agree to try to raise at least $100 each — the equivalent of two hours of speech therapy. Every dollar raised goes directly to grants given to kids and their families who cannot afford speech therapy or technology for speech. Over the weekend of November 12-14th, participants choose a 12-hour time frame during which they agree to not speak. Writing, signing, gestures, etc. are allowed, just no speech! This is to simulate the experience of having a communication disorder, to raise awareness, and to build empathy.
Check out how some of last year's participants described the event:
"Participating in the Silence for Speech fundraiser was both humbling and rewarding. It gave me an opportunity to reflect on the challenges of those that struggle with disabilities and renewed my desire to do more and to care harder. That was a gift."
"This was hard, but makes you realize how important verbal communication is. Helpful hints: have plenty of scrap paper around and establish your gestures/signs with your family/friends prior to starting!!!"
As a speech-language pathology master's student, I can attest to the power of communication. The ability to communicate, by whatever means, is such an empowering, basic right that every person deserves. Communication is at the foundation of all of our relationships, interests, ideas, and passions – being able to express these things can truly change the lives of those who need it.
To help make a difference, register today at www.silenceforspeech.com!