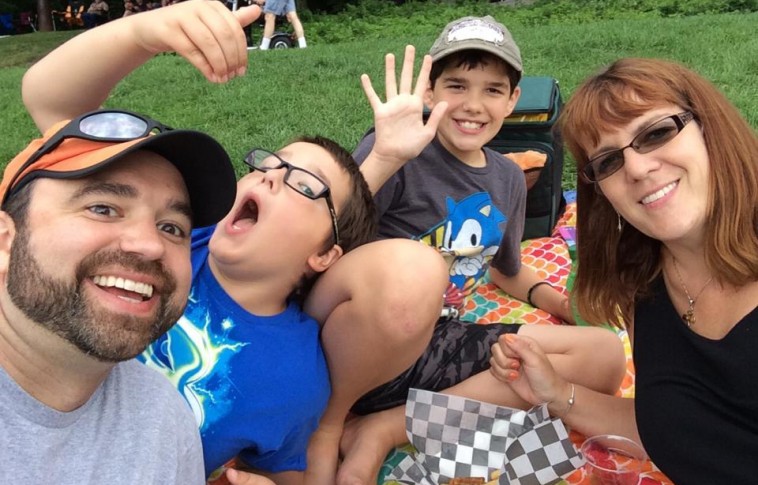 The following is an excerpt from a blog originally posted on The Content Standard.  View the full post here.  
The Orange Effect Foundation (OEF) officially launched last spring, but its story began more than a decade ago, when Joe and Pam's first-born son, Joshua, was diagnosed with autism.
In those days, Pam was a stay-at-home mom with a healthy baby boy. But by the time her son was 18 months old, she knew something was different about him. "We were in play groups with other kids around the same age," she recalls. "When we went to their houses, Joshua would play with their toys but never showed any interest in the other kids. They would play with each other, hopping around from one toy to another. But Joshua would focus on one toy the entire time. The other kids were starting to form words or to have some semblance of communication with their parents, and Joshua just wasn't."
In the beginning, Pam and Joe chalked these differences up to Joshua's unique personality and speed of development. As Joe puts it, "When you're a parent, especially a first-time parent, you just assume your kid is different because he's your kid. We're all a little weird, and normal is relative. So he didn't make eye contact and would play with one toy for hours. That was just Joshua."
But during Joshua's two-year checkup, the pediatrician grew concerned about his behavior and referred them to a specialist at the Cleveland Clinic. After a few appointments, family interviews, and failed attempts to do play therapy with Joshua, the specialist gave them a diagnosis: moderate autism.
Pam wasn't scared by the initial diagnosis. A former social worker, she knew the condition wasn't life-threatening and felt up to the challenge. "I was like, 'Okay, we can do this. Let's tackle it head on and figure out what we need to do.' But as we got more into the research and therapy, I started to worry he wouldn't be able to have relationships as an adult, that he would always be on this little island in his own head and not get to experience all the fun parts of life."
Joe had similar concerns when he heard the diagnosis. "All these flashes go through your mind—'Oh, my kid's not going to be able to do what other kids are'—and you feel sorry for yourself. But once you get past that, you realize he's wonderful just the way he is. Every kid is different in their own way, and this is just one struggle. I think it was advantageous for Joshua to be in our lives—to have parents who know a bit more about communication than the average person. Understanding how critically important it is, we really doubled down on therapy, believing that would help him become the person he wanted to be."
As it turns out, they were right.
From Bad News to Success Story
In the United States, 1 in 68 children falls somewhere on the autism spectrum disorder. While Joshua is not among the most severe cases, he had some major challenges to overcome.
Thanks to early intervention—including aggressive speech and occupational therapy—he has become quite the success story. But in the early years, progress was slow. "There was never a breakthrough moment," says Pam. "There were definitely more moments where we were concerned than relieved. Sometimes when the speech therapist came to the house, Joshua would literally run in the other direction."
But Pam and Joe were determined Joshua would have the best possible chance for success. So they stuck with it until those aha moments finally started to come.
After learning everything they could about Joshua's condition, Pam and Joe came up with their game plan. "We were Googling like crazy," says Pam. "But 12 years ago, the resources weren't there that are there today. We didn't have the networking or family support groups you could find now. We used what we learned to bring help into our home, including a speech therapist and occupational therapist."
They also trained a group of college students to work with Joshua, starting with simple goals such as eye contact. "Kids with autism tend to look away during conversations," says Pam. "They're hearing you and processing just fine, but don't naturally do what our society considers to be the polite thing: to look at people who are speaking to them. So the students would do activities with him or play games and literally keep a score sheet of how often he made eye contact. The goal was for him to understand that eye contact is a good thing and that he would get rewarded for it, with a goldfish cracker or whatever."
Once he had that down, they moved on to other communication goals, such as saying "go" when he wanted someone to turn on his favorite toy train.
By the time Joshua turned four, he had a little brother, Adam, who was hitting all his developmental milestones on time and wanted to play with Joshua. Between the speech therapy, his work with the college students, and having Adam around, Joshua had made enough progress to enter a "typical" preschool program, meaning one that wasn't geared toward special needs children. He also attended a typical kindergarten, with a dedicated classroom aide to watch out for him.
By first grade, Joshua could attend classes on his own. An aide helped him stay focused during tests, but otherwise he followed the same curriculum as everyone else. By fourth grade, he no longer needed even that much assistance. "He continued with speech and occupational therapy through second grade, but he's been pretty home free since then," says Pam. "Knock on wood."
Today, Joshua is in eighth grade. He's class president, has good friends, plays the conga drums at school assemblies, and sings with the local School of Rock program. "When he was little and couldn't handle a lot of noise, we couldn't even sing 'Happy Birthday' to him," Pam recalls. "We would have to just say the words quietly. Now to have him go up on stage and sing 'Hey Jude' with a rock band, it's a really amazing change."
Joe couldn't agree more. "Joshua enjoys getting up in the morning and enjoys life and is a truly unique individual. And that's all I ever wanted for my children. He knows that whatever he decides to do, he can go after it and nothing is going to stop him. I just love that he has that kind of attitude."
As a mother, Pam can't help but worry about next year, when Joshua will start high school and leave the building and classmates he's been with since kindergarten. But with all the progress he's made, she believes he'll ultimately succeed in the new environment. "I appreciate every milestone in his life," she says. "I cry every single time he gets up on stage to speak or sing. I'm going to be 'that mom' everywhere he goes. And there's nothing wrong with that."
While Joshua has certainly learned a lot from his parents over the years, he has taught them just as much. For Pam, the lesson has been to accept individuality and to pick her battles. "I learned to ask myself, 'How important is this going to be 10 years from now?' Joshua not talking by the time he was three years old; that would be important 10 years later. But slapping his hands to release nervous energy was not going to be life-threatening or slow his development, and he needed that outlet. I've learned to focus on the long-term goals. He is kind, loving, open, and exceptionally honest. That is far more important to me than the fact he has worn camouflage clothing every day since first grade. His father wears orange every single day, so we know he gets it honestly."
The most important lesson Joe has learned from Joshua: There's no such thing as normal. "Everybody has their quirks," says Joe. "Everybody is different in their own way and we should celebrate the differences. I'm certainly not normal … I think the world knows this about me."