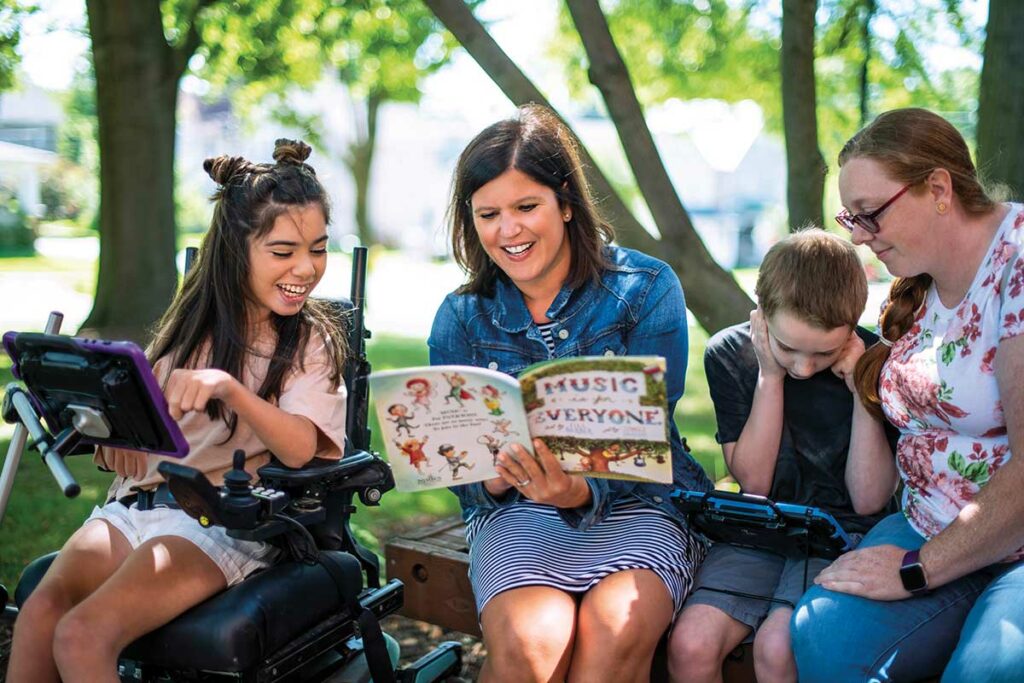 Sometimes big ideas start in small, unexpected places. You might be surprised to know that speech-generating devices (SGDs) began in a basement in rural Ohio. Two engineers, Ed Prentke and Barry Romich, connected over a mutual passion to help individuals with disabilities. In 1966, they launched their incredible work to give a voice to those who can't speak for themselves.
PRC-Saltillo (formerly Prentke Romich Company) was born out of their mission-driven partnership. We've paved the way in the advancement of SGDs and continue to innovate in the field of augmentative and alternative communication (AAC). We're also a pioneer in the field of language and vocabulary development, giving children and adults with communication challenges the ability to participate in life.
Having a way to engage fully in life and relationships is significant – especially when you know that your child has something to say
Jennifer, a mom in Marietta, Ohio, recognized that her daughter Emma had many thoughts and opinions by her facial expressions. She was determined to help her pre-teen with cerebral palsy find a way to communicate so they could further connect in their relationship and so she would know that her daughter would be safe when they were apart.
Finding the right assistive technology has proven this mom right. Jennifer now knows just how witty Emma is and finds joy in watching her make other people laugh. By communicating with her device, an Accent® 1000, Emma has displayed her ability to self-advocate as well as fiercely protect those she loves.
"Emma has been able to show her doctors, peers, teachers, and family just how much she understands," said Emma's mom Jennifer. "She has built friendships and has even advocated for a friend when she felt they needed it."
Our mission is to enable individuals with speech and language impairments to successfully communicate and interact in their environment. Watching Emma thrive at home, school, and play is exactly what we hope for as new technology and trainings are developed.
Emma's device is her primary voice because of a significant tremor that limits her fine motor functioning. But for youth like Tyler in Dublin, Ohio, his SGD was a language tool that helped him to develop verbal communication. Tyler was diagnosed with autism at 16 months of age. At 14, he is now mostly verbal and uses his Accent 800 device with LAMP Words for Life® as a backup primarily when he's tired or stressed. Tyler's experience shows that using an SGD doesn't prevent a child from developing verbal language.
Whether used as part of speech therapy or for full-time communication, these language tools give kids a voice, often for the very first time. Parents are excited to discover a new depth to their kiddo's personality. It's great to see siblings and grandparents connect with their loved one through world-renowned AAC language systems like Minspeak® or WordPower® which encourages continued device use.
Technology and resources have grown to meet the complex communication needs of AAC learners over the past 50 years. Our earlier bulky machines have modernized into sleek and portable devices so you can use them in life's many different spaces. Eye tracking, head tracking, switches, wheelchair mounts, keyguards, and TouchGuides make devices even more accessible for individuals. Varying screen sizes and vocabulary configurations create many options for success.
Seven-year-old Gwen is at the beginning of her AAC journey. Diagnosed with autism, her family connected with a speech therapist to determine if Gwen would benefit from an SGD and what access method would work best for her. Gwen uses a NovaChat® 8 device to communicate; her access method is touch. She started by using one-word utterances. One year later, and she's sharing her needs and opinions in five-word sentences. Her family is eager to discover more of Gwen's thoughts and perspectives as she develops spontaneous and meaningful conversation abilities.
"There are no words to describe how it feels to be able to talk to your child when it wasn't possible before," said Gwen's mother Ann. "Because of Gwen's autism, for years her communication was limited to simple sign language and a lot of guesswork on our part. Now Gwen has the ability to interact with us, teachers, and caregivers in a way that works for her and we can all understand."
PRC-Saltillo enables individuals with speech and language impairments to successfully communicate and interact in their environment
Through comprehensive products and support services, you'll experience our core values of trust, respect, integrity, and mission. Our consultant network consists of speech-language pathologists, occupational therapists, and special educators. They will help you select, learn, and optimize the right AAC device, vocabulary, and accessories.
Connect with a PRC-Saltillo consultant in your area to explore your AAC options. Together, you'll determine the best way to integrate your device into your life at home, school, and play. Plus, there's unmatched training and support to help the whole family engage with AAC.
The hopes and dreams that started decades ago in a Wooster, Ohio basement have turned into AAC solutions that help individuals worldwide achieve spontaneous, independent, and interactive communication regardless of disability, literacy level, or motor skills. Everyone deserves a voice, and we're thrilled to provide innovative technology so that Emma, Tyler, Gwen, and other children like them can express their unique and powerful voices.
Author: Sarah Scherdt, Products & Services Marketing Specialist, PRC-Saltillo