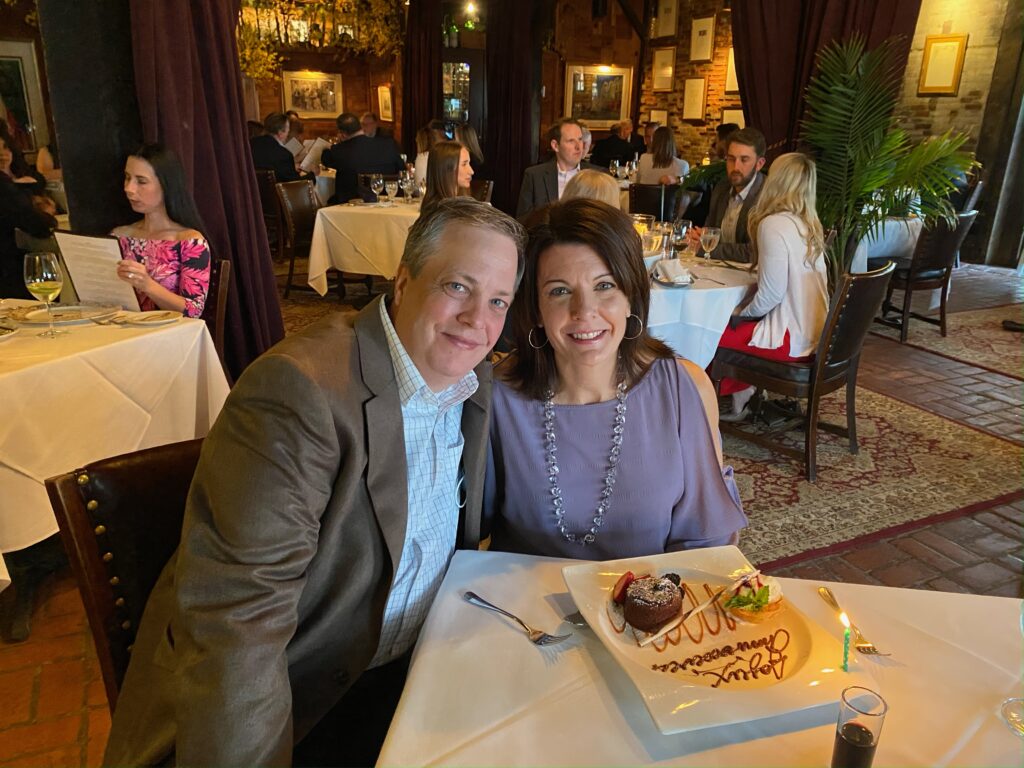 Welcome to our Board Member Spotlight, featuring Kristin Erbacher, the Board Chair of the Orange Effect Foundation. Kristin is a driving force behind the Orange Effect Foundation's impactful work. Today, we take a break from our usual topics as Kristin shares her insights about the local dining scene in and around Cleveland. From cozy neighborhood bistros to trendy fusion eateries, Cleveland has something to satisfy every palate. Kristin's personal recommendations are sure to guide you towards memorable dining experiences at some local family owned restaurants!
My husband Bryan and I love date nights..
Especially when we hit up a new restaurant or one of our all-time favorites. Today, I'd like to share with you a few of the local establishments we adore, as well as a couple new places that we've enjoyed.
Lulo Kitchen & Juice Bar – 1273 W. 9th Street, Cleveland. Latin American Fusion Cuisine with artisan cocktails! The food is excellent, it's very fresh, and is beautifully presented. We recommend the Tostones & Guacamole as an appetizer. The Mango Salmon and the Churrasco were both fantastic main dishes! The staff is very friendly and offers great service. We need to try it again for dinner with friends and enjoy some cocktails!
Batuqui – 12706 Larchmere Blvd, Cleveland. We were late to the game on this place since it opened back in 2015! Authentic Brazilian cuisine and cocktails that are truly amazing. The restaurant vibe is very cozy and inviting. The staff treated us like family, we felt like we were enjoying a Sunday family meal with friends! There is seating inside the restored Victorian home, with additional seating outside including a heated tent during the colder weather. It was a chilly night the evening we decided to give Batuqui a try, but they provided a fire pit table and a blanket to keep us cozy. The cocktails, Copa Kiss for me and Brazilian Mule for my husband also helped to keep us warm. For dinner I enjoyed the Moqueca Balana, a traditional Brazilian stew with fish and shrimp – amazing. Bryan had the Feijoada, a Brazilian party dish that is a meat lover's heaven in a bowl. And we ended our meal with delicious Passion Fruit Mousse. We will definitely go back this summer to enjoy the outdoor patio.
Local Favorites
Takis Greek Kitchen – 377 Lear Road, Avon Lake. We love Greek food and especially this place, first because the food and service is fantastic and secondly because it's local to us. Taki and his staff continuously turn out fabulous Greek dishes. It's been a while since we've dined-in at the restaurant, but we do order take out every so often. The bar at Takis is also good for happy hour to enjoy some drinks and appetizers. Our favorite starters are the Hummus with Pita Chips, Spanakopita, and Soutzoukakia (Lamb Meatballs). As for main dishes, my favorite is Moussaka and Bryan's is the Lamb Shank. They have a nice patio is well and we look forward to dining there again now that the weather's warmer.
Nemo Grille – 36976 Detroit Road, Avon. Located in the Historic 1850 Alten House, offering American Cuisine with a global flair. Nemo's is another great spot for happy hour and appetizers, or sitting on their patio in warm weather. Inside dining is cozy and ideal for a romantic date night. My favorite cocktail is the cucumber martini and Bryan usually enjoys a bourbon drink. The Ahi Tuna Poke Nachos or the Mushroom Gnocchi are the bomb! The Chilean Sea Bass is my go-to for an entrée and Bryan's is the Duck Breast. The Braised Short Ribs are also amazing! A bonus is that it's local for us in Avon.
I highly recommend checking out these local family owned restaurants!