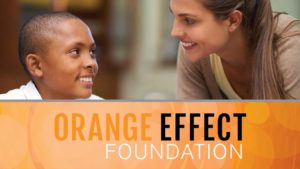 CLEVELAND – Oct. 16, 2017 – PRLog — The Orange Effect Foundation proudly announces that this month it awarded more than $29,000 in grants to children and young adults in need. Following a thorough review process, recipients were awarded grants to pay for speech therapy that will help them overcome Childhood Apraxia of Speech and other debilitating speech disorders, or received funds to purchase communication devices and speech-enabling apps. For these individuals, therapy and devices are essential tools for full participation in their families, schools, and society.
Due to the tremendous success of the 11th annual Orange Effect Foundation Golf for Autism, the foundation plans to continue awarding grants such as these for many years to come. This year's Golf for Autism was the largest ever and included over 160 golfers and major support from sponsors such as Petco, GIE Media, Aon, and many others.
With this latest round of grant awards, the Orange Effect Foundation will fund three speech devices and related technology, and more than 300 hours of speech therapy. Grants were awarded to children in Ohio, Tennessee, Virginia, North Carolina, Colorado, Idaho, California, and Florida.
One young recipient will use his grant to purchase an app for a new speech device. Although Medicaid paid for the new device, it did not fund the cost of a specific application the child uses to communicate. Fortunately, his family sought help from the Orange Effect Foundation. With a grant to purchase this important application, this child's transition to a new speech device is made significantly easier and his communication is not diminished.
Another family was awarded grants for speech therapy for two of their children, both of whom have Childhood Apraxia of Speech and who have attended therapy for years. Although intensive and consistent speech therapy is essential for these children, insurance did not meet their needs. The Orange Effect Foundation will pick up where insurance leaves off, ensuring that these children receive speech therapy all 12 months of the year.
Parents of a speech therapy grant recipient state that an Orange Effect grant has taken a "huge financial and emotional burden off of our family."  The Orange Effect Foundation is proud of its mission to empower children to effectively communicate through therapy and technology resources. If you know of someone who may benefit from a grant from the Orange Effect Foundation, please encourage them to learn more.
The Orange Effect Foundation awards quarterly grants through a competitive application and review process. The next grant application deadline is November 15, 2017. For more information and to obtain a copy of the grant application visit theorangeeffect.org.
About the Orange Effect Foundation
The Orange Effect Foundation strives to make sure that every single person has the ability to communicate. The foundation, while officially formed in 2014, actually began back in 2001 when the founders' son was born with autism. Early intervention has led him to be a very heartwarming and independent young man. The Pulizzi family wanted to give back by empowering other children with the therapy and tools they need to communicate effectively.
In 2007, Golf for Autism was started, in time raising over $130,000 for autism and speech therapy services. This year's event was held on August 7, 2017, at Elyria Country Club. For more information, please contact theorangeeffect.org