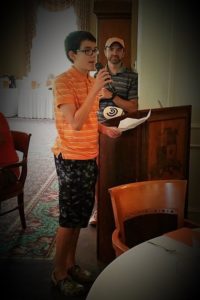 CLEVELAND – July 5, 2018 – PRLog — Recognizing that speech therapy, summer speech camp, and speech devices are simply out of reach for many families, the Orange Effect Foundation has stepped in to lend a hand. At a June board meeting, The Orange Effect Foundation awarded over $60,000 in grants to children that need a voice. This quarter, grant awards will fund over 450 hours of speech therapy, three weeks of summer speech camp, and three augmentative and assistive communication devices. For many grant recipients, these awards will enable communication for the first time.
Executive Director Pam Pulizzi explains that, "with the overwhelming number of applications that we receive, parents try to follow the family first model but have a difficult time because of financial need. The Orange Effect Foundation knows that raising a child is expensive and that raising a special needs child can be four times as expensive."
Speech-language therapists also recognize the value of an Orange Effect grant. After learning that her client had received funding, one therapist emphasized that, "ongoing (speech) therapy will have a tremendous positive impact."
With this latest round of grant awards, the Orange Effect has now spread to Hawaii, Utah, and Nebraska. Children in 24 states nationwide have been impacted by the Orange Effect Foundation. The goal is to reach children in all 50 states and possibly at some time in the future, worldwide.
The Orange Effect Foundation awards does not discriminate on the basis of race, gender, religion, nationality, disability, or sexual orientation. Although grants are awarded based on financial need, the foundation does consider extenuating circumstances. In all cases, The Orange Effect Foundation prefers to be the funder of last resort, relying on corporate, community, and individual support to raise funds.
The Orange Effect Foundation awards quarterly grants through a competitive application and review process. The next grant application deadline is August 15, 2018. For more information and to obtain a copy of the grant application visit theorangeeffect.org.
About the Orange Effect Foundation
The Orange Effect Foundation strives to ensure that every single person has the ability to communicate. The foundation, while officially formed in 2014, actually began back in 2001 when the founders' son was born with autism. Early intervention has led him to be a very heartwarming and independent young man. The Pulizzi family wanted to give back by empowering other children with the therapy and tools they need to communicate effectively.
In 2007, Golf for Autism was started, in time raising over $130,000 for autism and speech therapy services. This year's event will be held on August 6, 2018, at Elyria Country Club. For more information, please contact theorangeeffect.org.