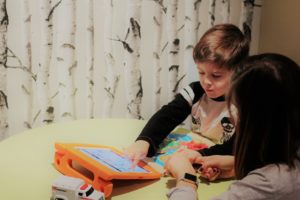 The Orange Effect Foundation—created by Content Marketing Institute co-founders Joe Pulizzi and Pam Kozelka—supports children and young adults with speech disorders. While many people are familiar with speech therapy and education, assistive technologies play a big role in helping children overcome their limitations. As program manager Maureen Stanton explains, "Speech-generating technology can truly change a person's life. As one parent told me after receiving a grant for her child's device: 'Our daughter will finally have a voice.'"
Learn about some of the devices The Orange Effect Foundation pays for so children can express themselves to loved ones and beyond.
Voice-generating devices
Children unable to communicate verbally can feel locked in and frustrated when those around them do not understand what they're trying to say. Text-to-speech devices can speak the children's thoughts—a life-saving outlet for a child with a speech disorder. This intervention comes at a high price; a single device typically costs between $5,000 to $7,000, which is outside of the reach of most families. The Orange Effect Foundation helps bridge the gap of what insurance does not cover.
Eye-tracking devices
Voice-generating devices often rely on physical dexterity that a child may not possess. One of The Orange Effect Foundation's applicant families explained that their 4-year-old daughter, who has cerebral palsy, could not manually operate the keypad on her assistive technology. The Orange Effect Foundation paid for an eye-tracking device—which cost roughly $4,000—so that she can use her gaze to choose from a list of words. Using the device, she has increased her vocabulary tenfold, and can communicate her needs in seconds rather than minutes.
Speech-assisted tablets
For some children with speech disorders an iPad is sufficient to meet their needs. Loaded with special apps, an iPad can give children a voice by translating text to voice at a fraction of the cost of traditional voice-generating devices.
Anti-stuttering device
The benefits of devices used to reduce or eliminate stuttering can go well beyond combatting the speech disorder. The Orange Effect Foundation's oldest applicant to date was an 18-year-old man who suffered from a severe case of stuttering, as well as the low self-esteem that can accompany it. The foundation paid for a SpeechEasy device, which quietly repeats a user's speech through a small device worn behind the ear. For those who stutter, hearing their own voice as a near-simultaneous echo dramatically reduces the incidence of stuttering.
The Orange Effect Foundation has paid for speech-therapy services, education, and assistive technologies for more than 40 families since its founding three years ago. To learn more about the foundation or to make a donation, visit TheOrangeEffect.org.
Author

Clare McDermott
Clare is the editor of Chief Content Officer magazine and owner of SoloPortfolio, a Boston-based content marketing provider for professional service firms.