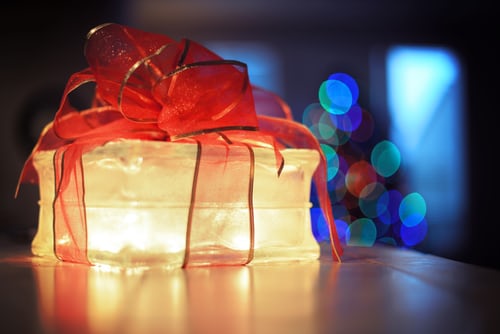 These 8 key categories will teach you how to spot the best toys for language learning and getting cognitive wheels turning!
Go Old School
The classics are classic for a reason! Baby's first Christmas? Check out these Uncle Goose classic blocks. Second time around, upgrade to these awesome Hape blocks. Maybe you're kiddo is a bit older and ready for Legos.
My favorite toy ever is a shape sorter. Any shape sorter. Check out this First Shape Sorter for a newbie, or more challenging ones like this. More complex puzzles or toys that require building and use of size/matching concepts (like putting together train tracks) are perfect for creative minds.
No Batteries Required
Batteries are a hassle regardless, so simplify your child's toys because simple can be better. Sounds and lights can be distracting, and take away from the language rich environment that you could be providing for your child during play. When you have your child's full attention, you are optimizing a learning moment.
More words, less letters
Young children should be more focused on word learning and language development, rather than identifying, writing, and saying letters. Sure, we sing ABC's for fun, but actual letter and number learning is more of a pre-school concept. So for the toddler, keep it simple and bombard them with strong vocabulary and language to enhance their development. Tell stories, sing songs, and really wait for your child to respond.
Forget Gender Toys
Why can't a boy have a baby doll? Research has been done since the 1970's showing what gender specific toys do for our children's minds. The result, "girls toys" helped develop communication skills and emotional literacy, while "boys toys" encouraged more technical knowledge. Give your child the best of both worlds!
Bookshelf Awesomeness
Using pictures and book reading can always boost your child's language and word learning. Choose books that have vivid vocabulary and opportunities for you to ask questions during reading. Take book reading to the next level, with new books this holiday season. Check out our recommended book list for ideas.
Get Real
On a budget this holiday? Sometimes the best "toys" are not toys at all. Children can learn and use pretend play using real adult items. For instance, an old set of pots and pans for pretend cooking, or head to the dollar store for some cheaper cooking or cleaning items, or set up for a tea party. Basic stationary and office items like envelopes, post-its, and paper bags can also make for great craft projects, like puppets.
Toy Rotation
If you haven't heard about toy rotation, get on board. It's a great way to use and reuse old toys, or swap with friends to give your child a new experience and an opportunity to build a new set of skills.
Less is More
Remember, that when it comes to the tangibles, less is more. The best learning opportunities happen when you are present as a parent. So get outside, get playing, pretend, read, and spend quality time with your kiddo, that you'll never regret.
Source