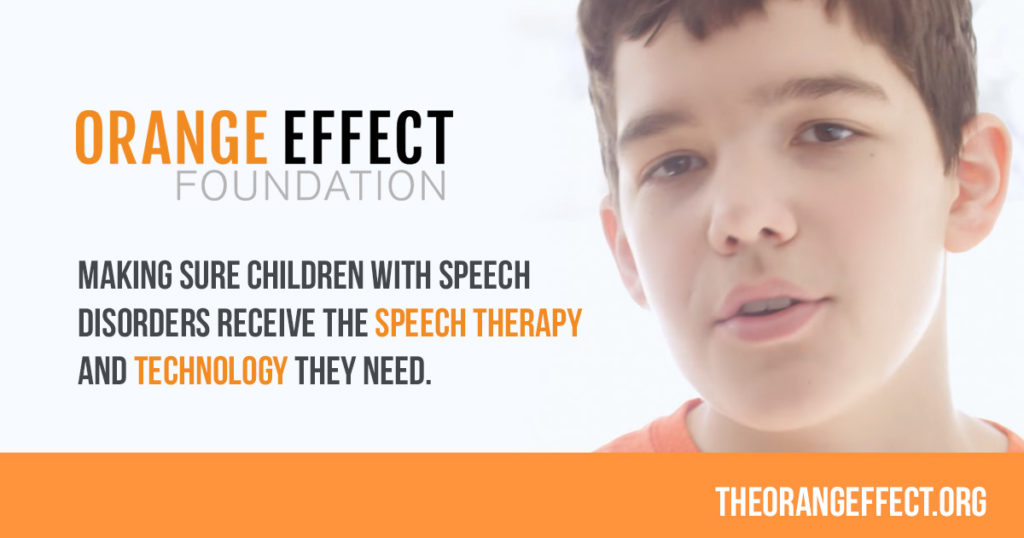 CLEVELAND – March 22, 2021 – PRLog — 2020 challenged us all. Faced with an unexpected economic constriction, the Orange Effect Foundation took the opportunity to try something new. By adding two new fundraisers, the 100 Holes of Golf Marathon and Silence For Speech Therapy, this grant making organization was able once again to meet the needs of children with speech disorders across the United States.
The first event, 100 Holes for Golf Marathon, brought 28 golfers out to each golf 100 holes in 12 hours. The other new event, Silence For Speech Therapy, raised funds and also awareness. Participants pledged not to speak for 24 hours and learned quickly that speech is essential. One participant shared afterwards that, "Being silent for 24 hours made me understand why people with difficulty verbally communicating might avoid others – it is way easier to just avoid people when you can't talk to them! But staying away from people gets lonely after a few hours, and super frustrating when there is something you need to tell them."
The Orange Effect Foundation recognizes that speech is vital. That is why, once again, the foundation is proud to announce that after the first quarter board meeting, nearly $30,000 was awarded to fund speech therapy, purchase speech devices, and send kids off to summer speech camp. These grants would not have been possible without the strong support of donors such as GIE Media and OpenView, and the generosity of our supporters.
The Orange Effect Foundation strives to empower children and young adults with speech disorders to communicate effectively. Children, many on the autism spectrum and others diagnosed with apraxia, have been able to go to speech camp, receive consistent individual speech therapy sessions, and obtain speech technology that has changed their lives for the better.
The Orange Effect Foundation does not discriminate on the basis of race, gender, religion, nationality, disability, or sexual orientation. Although grants are awarded based on financial need, the foundation does consider extenuating circumstances. In all cases, the Orange Effect Foundation prefers to be the funder of last resort, relying on corporate, community, and individual support to raise funds.
The next grant application deadline is May 1, 2021. For more information and to obtain a copy of the grant application visit theorangeeffect.org. Upcoming fundraising events
100 Holes of Golf – May 24, 2021
Golf for Autism – August 2, 2021
About the Orange Effect Foundation
The foundation, while officially formed in 2014, actually began back in 2001, when the founders' son was born with autism. Early intervention helped him to become an independent young man. The Pulizzi family wanted to give back by empowering other children with the therapy and tools they need to communicate effectively.
OEF Golf for Autism is the Orange Effect Foundation's largest fundraiser. Proceeds from the event have raised more than $500,000, directly delivering services to over 200 children in 33 states. The Orange Effect Foundation's 15th Annual Golf for Autism will be held August 2, 2021, at Elyria Country Club.
Contact
Maureen Stanton
info@theorangeffect.org