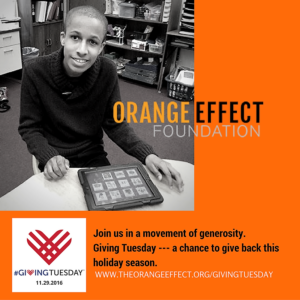 Black Friday.
Small Business Saturday.
Cyber Monday.
Three days focused on the sole purpose of spending money on STUFF. (Even though I'm totally crazy about Small Business Saturday!) But really, how much stuff do we need?
I remember the days growing up with my big family and running downstairs to see all of the gifts and getting so excited when I saw some for myself. I remember the tables turning in middle school once I had my own money from babysitting and I could buy presents for others. I became less concerned about the gifts under the tree for me, and more excited to see the faces of my family members I had shopped for.
Now, as we've gotten even older, our gifts among our family have gone from meaningful to extra meaningful: whether in the form of a physical gift or memento, or even better, a donation in someone's honor or memory.
How great would it be if there was a day each year around the holidays where shopping wasn't about STUFF but was about GIVING? Well, my friends, there is. And that day is is today!
Enter #GivingTuesday
Giving Tuesday, entering its 5th year, is a day to give to charities and nonprofits, spread through social media and online collaboration. A day to truly GIVE. By using the #GivingTuesday hashtag, charities can share their message to interested and new audiences, and open the eyes of someone who may have a passion for their mission but didn't know about the organization until it showed up in their Twitter stream. Ultimately, of course, #GivingTuesday is meant to be a big day to donate to a cause near and dear to you. Better yet, do your "holiday shopping" early this Giving Tuesday.
A couple years ago, my kids – in need of a "true spirit of Christmas" nudge – were asked to earn money and make donations in each of their grandparents' names as part of their Christmas gift. Then, on Christmas Day, each grandparent received a short note explaining why the kids picked that charity that year. It's become such a special part of our day. So in a similar way, I'll explain to you:
Why I'm donating to The Orange Effect today
My career has spanned over two decades. I majored in Journalism. I've done so much in marketing and advertising and communications. And regardless of all of the differences in the many roles I have had over the years, the one thing that was and is constant is a need to be a great communicator.
Communicating – in the spoken word, in the written word, in person or via social media, shared simply to a colleague or with a room of hundreds – is so important. As an adult, I understand this necessity, and looking back to when I was in grade school, I wish so much more was known about speech disorders and how much early intervention mattered.
I think of children today with communication and speech disorders and am thankful that there are organizations like the Orange Effect Foundation that are available in children's lives at an early age, when therapy and intervention can make the greatest impact. While there is such a natural tie-in with my (content) marketing world and speech, really every job out there demands strong communication skills.
We have the ability to arm our youth with the best resources, tools and people out there to prepare them to not only get through their lives, but to thrive.
Serving on the Board of the Orange Effect, I've been very humbled to listen to the stories of many children and young adults in need of speech services. Everything from equipment needed to help in communication for a nonverbal toddler, to a high school-aged young man who previously hadn't had access to individual and customized services.
I hope you're inspired to help the Orange Effect Foundation today. How? Here are three ways:
Donate and be part of our one-day #GivingTuesday event, aiming to raise $10,000 in a single day
Share this link on your Facebook page or via Twitter with the hashtag #GivingTuesday to help spread the word to your own community
Use this link every time you visit Amazon.com so a portion of your purchase goes right to The Orange Effect – at no cost to you! Not just today, but every day!
Thank you for helping us make a difference in the lives of young children when they need it most!
About the Author
Cathy McPhillips is a member of the Board of Trustees for The Orange Effect Foundation. She is also the Marketing Director for the Content Marketing Institute where she oversees marketing efforts for all CMI properties. Prior to joining CMI, Cathy led social/community efforts for a national nonprofit, owned her own strategic marketing business focused on media and digital/social marketing for several international restaurant brands, and was media supervisor at Wyse Advertising in Cleveland.