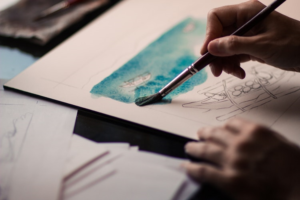 The arts have always been an avenue to aid the development of all children. Teaching children how to express themselves and their emotions through artmaking is not new, as we spend more time with our children at home.  The American Art Therapy Association (AATA) denotes that 'Art therapy' enriches the lives of individuals, families, and communities through active art-making, creative process, applied psychological theory, and human experience within a psychotherapeutic relationship.'It is well known that speech difficulties can be hugely improved by the rhythmic use of music and song. Art takes on a variety of forms and it's all down to how to allow your child to access it, to learn and communicate more effectively.
Communicate Without Words
Children are not always able to communicate how they feel, this can lead to anger, frustration and a great deal of confusion, not only for the child but also for the parent or carer. As a child the feeling is there. Often it can't be explained but may be able to be drawn or painted in order to manage it. Art engages all the senses. It can offer an outlet to explore one's creative side whilst at the same time providing an alternative avenue to improving verbal and communication skills.
Communicate With Chalk and Cardboard
So where to start? Use a drawing guide in order to provide some simple instruction should you need to inspire a starting point. Offer a variety of art materials for your child to work with since art comes in different forms, so different individuals will have differing preferences in terms of which materials they enjoy using. Think pencils, paint, chalk, glue, sand, use different types of paper, fabric and construction cardboard. Dress up costumes, mask making material and music can form the basis for an artistic dance.
Compose to Build Confidence
Once the creative process commences, it is up to you to ask your child about it.  Remember that there is no right or wrong way, so there are no mistakes to dwell on. The end result is in a way irrelevant in terms or its quality and appearance, since it is the process that forms the stimulus for confidence and potential communication. Can they describe any details or what they are doing and hope to create. You may profit from a short, memorable walk together to inspire the creative juices. For those children not yet able to communicate effectively, an art composition can act as a bridge to provide a manner in which to express thoughts and feelings or simply manifest as a completed piece from which a conversation about can ensue. When it is finished, the masterpiece must be shared with the family. This piece could lead to a collection or simply be a standalone piece. What picture will you paint together tomorrow?
Author