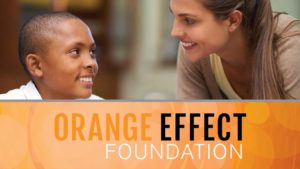 CLEVELAND – Sept. 25, 2018 – PRLog — Recognizing that some children must go without necessary speech therapy because of their family's financial limitations, the Orange Effect Foundation has responded. At a recent meeting, board members for the Orange Effect Foundation awarded nearly $50,000 in grants to needy children and young adults across the United States. These grants will fund speech therapy and speech devices. They fill the gap where insurance leaves off or, in some cases, where insurance does not pay for essential treatment. Recipients in this grant cycle live in Nebraska, Ohio, Florida, Wisconsin, Maryland, Virginia, California, and North Carolina.
Families of grant recipients were quick to express their appreciation. One mother said, "Thank you for making these resources available to families like ours." For so many families, an Orange Effect grant is the only way to afford a speech generating device or pay for weekly therapy.
As awareness of the Orange Effect Foundation continues to grow, so has the number and size of grant requests. Program Manager Maureen Stanton explains, "We absolutely appreciate each applicant's need for an Orange Effect grant. Unfortunately, we receive more requests than we can possibly fund. Although grants are awarded based on financial need, we do consider extenuating circumstances. In all cases however, we prefer to be the funder of last resort."
Since it began awarding grants in 2015, grants from the Orange Effect Foundation have purchased 24 speech generating devices and over 2,500 hours of speech therapy. The Orange Effect has now reached 121 kids in 26 states, with the goal of having a presence in every state.
The Orange Effect Foundation awards quarterly grants through a competitive application and review process. The next grant application deadline is November 15, 2018. For more information about what the grant requirements and to obtain a copy of the grant application, please visit www.theorangeeffect.org.
About the Orange Effect Foundation
The Orange Effect Foundation (http://theorangeeffect.org/) strives to ensure that every single person has the ability to communicate. The foundation, while officially formed in 2014, actually began back in 2001 when the founders' son was born with autism. Early intervention has led him to be a very heartwarming and independent young man. The Pulizzi family wanted to give back by empowering other children with the therapy and tools they need to communicate effectively.
In 2007, Golf for Autism was started, in time raising over $200,000 for autism and speech therapy services. Next year's event will be held on August 5, 2019, at Elyria Country Club. For more information, please contact theorangeeffect.org.