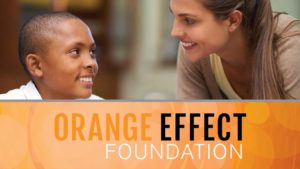 The Orange Effect Foundation board is excited to once again award more than $20,000 in grants to children in need during their June board meeting. Now 11 more children across the country will have access to speech therapy, summer speech camp, or even special speech-generating devices that help them communicate like never before.
Several of the recipients have been diagnosed with Childhood Apraxia of Speech. For these children to overcome this neurological disorder, consistent and intensive speech therapy is essential. However, most insurance does not provide sufficient coverage or doesn't cover apraxia at all. The Orange Effect Foundation grant will help defray those costs.
The mother of one recipient shared with the board that her child "desperately wants to play with other kids, but most often sits to the side and watches because he's too afraid to talk." She hopes that the summer therapy he receives because of an Orange Effect Foundation grant will help him get a strong start when he begins kindergarten in the fall.
For those recipients who need the speech-generating devices, the equipment will enable the children to develop friendships and social relationships which have been impossible in the past due to limited communication.
"As the organization grows, the board is learning more and more about disorders that affect speech and hearing and how that impacts a child's self-esteem," shares Pam Kozelka, Founder and Executive Director, Orange Effect Foundation. "We are fortunate to be able to help these children and families when income and insurance cannot."
The Orange Effect Foundation empowers children and young adults with speech disorders to effectively communicate through therapy, education, research, and technology resources. The Orange Effect Foundation awards quarterly grants through a competitive application and review process. So far the foundation has awarded more than $75,000 in grants. The next grant application deadline is August 15, 2017. For more information and to obtain a copy of the grant application visit theorangeeffect.org.
About the Orange Effect Foundation
The Orange Effect Foundation strives to make sure that every single person has the ability to communicate. The foundation, while officially formed in 2014, actually began back in 2001 when the founders' son was born with autism. Early intervention has led him to be a very heartwarming and independent young man. The Pulizzi family wanted to give back by empowering other children with the therapy and tools they need to communicate effectively.
In 2007, Golf for Autism was started, in time raising over $100,000 for autism and speech therapy services. This year's event will be held on August 7, 2017, at Elyria Country Club. For more information, please contact theorangeeffect.org