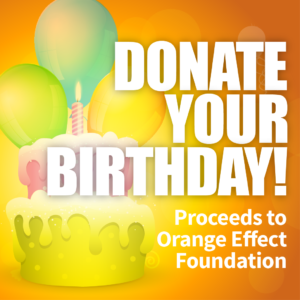 Donating your birthday using your Facebook account is actually pretty easy. Here is everything you need to make your "Donate Your Birthday" campaign successful.
If you haven't already, be sure to complete this form so we can help support your birthday campaign.
Go to the Orange Effect Facebook page.
Under the main image to the left, "like" the page.
Then click on "Create Fundraiser."
A dialogue box will appear. Be sure your charity is set to "Orange Effect Foundation".
Under "How Much Money Do You Want to Raise?" input $750.
Set the Fundraiser to end on your special occasion (that is, if you started this fundraiser a week before…if not, give yourself a couple extra days).
Click Next.
Under the "Why You Are Raising Money?" part, you can add a personal note or leave the section as is.
Click Next.
Then click "Create."
That's it. Once created, the fundraiser will be live on your Facebook page. Be sure to share it three or four times during the campaign so you can hit your goal.
You can also share the Facebook link on Twitter, Instagram or LinkedIn. We also suggest sending an email to friends and family so they are aware of it. We'll email you a few weeks prior to your big day with some more suggestions.
Thank you once again for your support. The Orange Effect Foundation, our board members, our community and families, and most importantly, our young donor recipients, thank you.
If you need any assistance at all, please send an email to info@theorangeeffect.org.