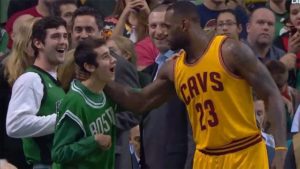 It's NBA Playoff Season (Go Cavs!) and whether you prefer to catch the game from your couch or are fortunate enough to have tickets to a game, several arenas have recognized that watching a pro game can be sensory overload for some fans. In fact, the Cleveland Cavaliers were the first to offer a sensory room in a U.S. sports facility in March 2017 (like I said, GO CAVS!)
These rooms feature calming decor, special seating and privacy away from loud noises and crowds for fans with sensory issues or other challenges. Disability awareness and expanded accessibility is nothing new for the franchise. The Cleveland Cavaliers just hosted their annual Autism Awareness Night on April 5th. In partnership with Cleveland Clinic Children's and Autism Speaks Northeast Ohio Community the night brought awareness to Autism and Autism care in the community.
Check out the story here to learn more and GO CAVS!