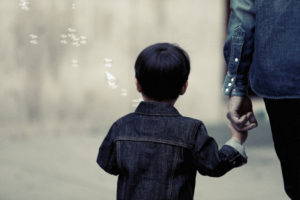 Summer of 2003. I remember it very well. I was a stay-at-home mom and the happiest one that there ever was. I had two boys, 22 months and 4 months old. We attended library story time and play groups. We went to the park where Joshua, the oldest, could swing for hours. We were an active and happy family with great support systems and lots of love. I believed everything anyone would tell me that explained why Joshua did not talk. They told me it was because he was a boy. They told me it was because he didn't need to talk since we did everything for him. They told me it was because he was a little bit shy.
Even now looking back, I know that these explanations were all covers for the truth. I knew that something was wrong; something was different. We finally went to a speech assessment where the therapist wanted to take my son into a room by himself. Well, she didn't know him. He didn't adjust well to small spaces and new places. She said I could watch through a two-way mirror. I almost dared her to try and get him in there but knew he would not, so I ended up going in with them. To myself, I thought it was perfectly normal for a two-year-old to panic in a new place and cling to me. I later learned that it is not the norm. Curiosity should have kicked in, for example.
I could go on and on recalling the denial. My son wasn't sad or upset when things flowed in our daily routine. He could sit and play with one toy for hours and hours on end. As a mom, how awesome was that? But in the end, at age 2 when the doctor told us that Joshua had Autism, it was time to act… no more denial for this family.
Look for part 2 next week!
It is really important to me that anyone who reads this consults with a professional prior to forming any diagnosis about his or her own child. Many children demonstrate one of the signs I write about and yet are perfectly normal. Please know that this is just me sharing my story so that hopefully others' stories will be easier to tell. I want people to know that there is always hope.