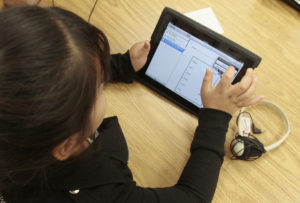 Did you know that an I-Pad app can provide a voice for someone who has difficulty communicating verbally? One specific augmentative and alternative communication (AAC) app enables users to modify and personalize it for specific situations, such as ordering lunch at a local sub shop. With this new "voice," users gain independence and self-esteem. Watch as a teen uses an I-Pad app to ensure that his sandwich is made to his specifications.
The Orange Effect Foundation funds speech technology, including applications. If you know someone in need, please be sure to tell them about us!
This video appeared on CNNMoney.