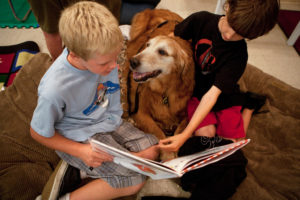 Animal-assisted therapy has been gaining strength in popularity and recognition as an effective part of a therapy regime for children who have a wide range of social, language and communication disorders.

Animal-Assisted Therapy (AAT) is defined by The American Humane Society as:
"a goal-directed intervention in which an animal is incorporated as an integral part of the clinical health-care treatment process. AAT is delivered or directed by a professional health or human service provider who demonstrates skill and expertise regarding the clinical applications of human-animal interaction."
Animal-Assisted Therapy is not new. In fact, using animals to assist in various therapies dates back to the 19th century when dogs were brought into therapy sessions to help encourage communication with patients. In 1859, Florence Nightingale, the founder of modern nursing, wrote, "A small pet animal is often an excellent companion for the sick, for long chronic cases especially."
The benefits of animal-assisted speech therapy are numerous. It helps children build confidence, enhances empathy, provides an experience of unconditional acceptance, facilitates healthy attachment relationships, and many more.
Of course, there are many tools that SLPs use in their practice to successfully treat speech and language disorders or to supplement current therapy practices such as games, books, music, flashcards, or even technology. An animal too can help children meet their communication goals. Swimming with dolphins has been shown to help eliminate fear and anxiety in children, as well as increase attention span and improve coordination — plus, what could be more fun. Hippotherapy refers to the use of a horse as a treatment tool by physical, occupational or speech therapists. The movement of the horse helps improve balance, coordination, and motor skills in children.
You may have heard about or experienced a dog visiting a hospital or hospice as an effective example of animal-assisted therapy. Animals used in speech therapy interact in the same manner. According to Lois Jean Brady, MA, CCC-SLP, "Therapy animals interact with students unconditionally, without words and in a straightforward way, creating an atmosphere that motivates them to expand their skills and strengthens their determination to persevere in spite of obstacles and frustrations."
For more information about animal-assisted speech therapy and the possible benefits for your child, the Advance Healthcare Network for Speech and Hearing offers a comprehensive study of how AAT works and the potential benefits.
This article first appeared online at SpeechBuddies.com, an service that connects families and therapists.